Washing car interior II Everything you want to know
Most of the car owners are very much aware of the beauty of the car exterior. They maintain a routine washing it for the best look. But what about the interior? Only the appearance of the exterior is not enough. It is also essential to clean the interior regularly. A true car lover is always aware of both the interior and exterior.
Many of us can't wash the interior regularly because we don't know the process of cleaning. Additionally, we can't go to the car wash shop because of a higher cost. If you are the person of these categories, then you are in the right place where I am going to tell you the easy process of washing car interior at home.
You need some essential things to do the job those are given below. It can seem a big list because you will have to buy several things. But if you invest money to buy all of them once, you will be able to work with them for a long time. The things needed-
A vacuum cleaner
A stiff brush
A bucket
Clean water and detergent
A steam cleaning machine or a carpet cleaning foam
Cleaner and conditioner for seats
A glass cleaner
A microfiber towel
An odor eliminator gel
If you have all these things, you can start working. I will tell the complete process step by step.
The Steps to Follow
Clean trash
The first and foremost thing to do before starting the cleaning process, you need to clean the trash. There will likely be trash on the floor, under the seats, and in the seat cracks. The vacuum can't handle all the garbage like bottles, toys, and other objects like these.
Clean the floor mats
Start with cleaning the floor mats. Remove them out of the car and shake. Doing so, the dirt will be eliminated. If there are still dirt and grime, use a stiff brush to eliminate them properly. Now, take a bucket with clean water. Mix some detergent with the water and wash the mats with the mixed water. Washing carefully, take the mats in the sun and wait until they become dry completely.
Related article
Vacuum
It is one of the most necessary tools to clean the interior of the car. At first, vacuum both the front and back seat with it. Now, clean the floor and every single area of the car where you can get the nozzle, including under the pedals, and along with the side door panels.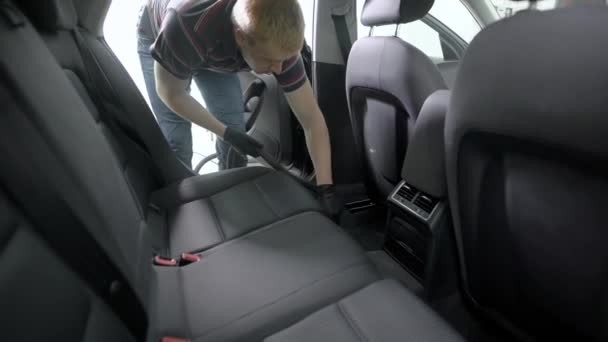 Carpet
The best way to clean any carpet is to use a steam cleaning machine and the hand-held models are ideal for this job. If there is no machine, you can use a carpet cleaning product. Don't worry, you just need to invest around $5 for this. It is better to choose one with spray bottle that makes your work easier. If you can purchase a good one, it will clean the carpet very nicely. A good one will also provide pleasant smell. Sometimes we throw chewing gum unconsciously. If it happens to you, rub it with ice cubes for several minutes. When it turns brittle, gently pry it off the carpet.
Seats
There are popularly three types of seats in the car.
Leather: We found most of the car seats with leather. It is a difficult job to keep them clean all the time. But if you clean and condition them maintaining a routine, they will provide a look like the new one. To do this job, you can buy a leather cleaner and conditioner. A good leather cleaner will wipe away dirt, grime, oil, fingerprint, and other harmful contaminants from the seats. After cleaning them, you can use a conditioner to restore the beauty of the seats. You know what, you will get a cleaner and conditioner in the same bottle.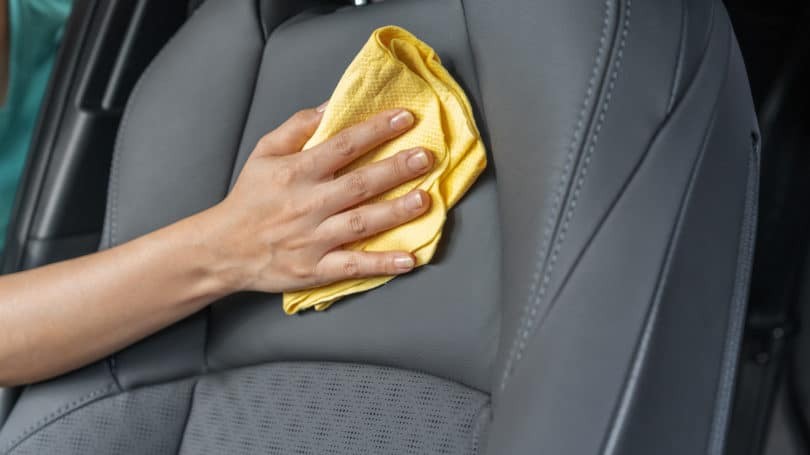 Vinyl: These seats are comparatively a snap to take care of. You can quickly and easily clean them. You will get some cleaner for this type of seat. I have mentioned a cleaner earlier, which can be effective for the vinyl seats also. After using the cleaner, wipe them with a microfiber towel to dry.
Cloth: You can face problems with stains and nasty odors with this type of seats. To solve these problems, there is a huge range of products on the market. Stain removers are ready to remove all kinds of stains from the seats and some will work to leave fresh smell for you.
Windows
To clean the windows and mirrors, you need a glass cleaner and microfiber towel that can clean the toughest, etched in water spots, and other stains from the glasses with ease. If you can choose a good glass cleaner, it will remove severe water spots, calcium and mineral buildup, heavy limescale, salt spray deposit, rust deposit, alkali, mold & mildew without doing any harm to the glasses. After spraying the cleaner to the glasses, use a microfiber towel to complete the job.
Dashboard
It is one of the most difficult parts to clean the dashboard of the car interior because there are some hard-to-reach areas. It can consist of leather, vinyl, or some other material. So, you need to apply a product according to its nature. But before doing so, use the vacuum cleaner to vacuum all the dust. Finishing them, you can use an interior dressing to keep it from fading or cracking from exposure to sunlight.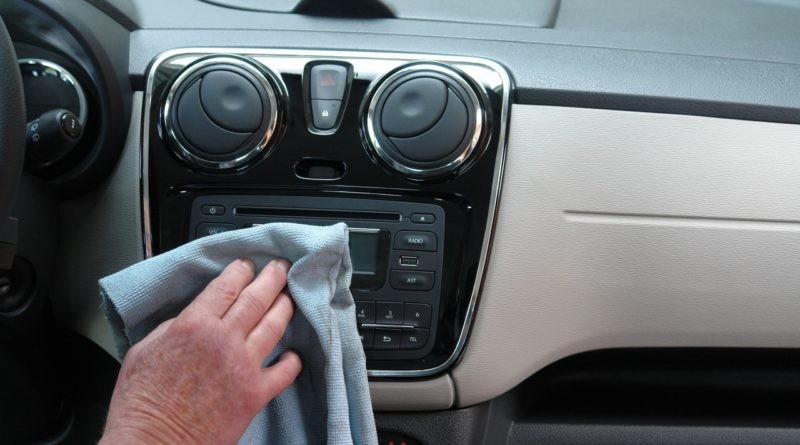 Use a car freshener
According to me, if you already have done all these works, all will impress looking at your car. Now, it's time to do something more. It is not compulsory but to make your journey more comfortable, you can use a car freshener. It is not so pricey at all.
So, these were all about washing car interior. I think I have told you everything you need to know. As you can easily do the job, I have told you everything step-by-step. I hope you will be benefited from my article.