Installing a 3rd Gen Camaro Wide Body Kit: The Ultimate Guide
If you've owned a 3rd gen Camaro for a while, then you know there comes a time when you want to improve its appearance and drive with a whole new look. Fortunately, a great wide-body kit will improve your car's good looks and upgrade your driving experience.
This article covers how to install a 3rd gen Camaro wide-body kit, why you need one, and more information on the components of this kit.
Wide body kits
Wide body kits are components that aim to make your car look wider than it initially is and this is an upgrade mainly for sports cars. If you want your Camaro to appear sportier and have improved performance, then wide-body kits are perfect for achieving this goal.
The two major components of any wide-body kit include the front and rear fender flares, however, modern times have improved this category to include side skirts and rear components.
Types of body kit materials
A body kit is a collection of materials needed to improve the overall appearance of your car. If you have the budget and resources to make this upgrade happen, then it is important to know the types of body kit materials to know exactly what your vehicle needs.
Fiberglass body kit
Fiberglass is a type of fiber-reinforced plastic that consists of a combination of glass fibers and resin. This material has been used to construct a lot of body kit materials, and they are widely used because they are a more cost-effective way to give your car a better look. The constituents of fiberglass make it very light, thus it does not burden your vehicle with the additional weight that requires more power to move.
Fiberglass can withstand extreme temperatures making it suitable to be used in a warm region, they are also easy to customize and repair if something goes wrong. However, it does not last for a long time as it is prone to breaking or cracking, and it is also one of the materials that are difficult to install.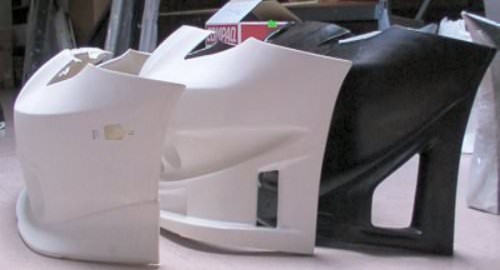 Polyurethane kits
Polyurethane is a flexible plastic material that can also be used as a wide-body kit for your car. They are relatively cheaper than fiberglass material and are easier to install because of their flexibility. Polyurethane body kits are great at resisting scratches and dents and this makes them more durable than fiberglass kits.
It is difficult to customize this material as it makes paint sag which doesn't do a lot for your car's appearance. Polyurethane body kits are not as lightweight as fiberglass thus they will contribute some weight to your car, which will require you to move with more power.
Carbon fiber kit
Carbon fiber is another material that can be used to give your car a futuristic look. It has a nice design and can be shaped to give your car a custom design, it is also paint-friendly which makes it one of the best options for your car. Like fiberglass, they are lightweight and will not require you to exert more power to keep your car going. It resists minor dents and scratches and it can be used in regions with high temperatures. This material is expensive compared to fiberglass and polyurethane.
Why you need a body kit for your 3rd Gen Camaro
The primary reason a lot of people install body kits on their cars is for appearance and this may not be reason enough to proceed with this upgrade. Here are some other benefits you can enjoy by installing a body kit on your car.
Improved car performance
Installing a body kit means you are remodeling your car in a way. This upgrade improves the aerodynamics of your vehicle, a property responsible for affecting how your vehicle moves in the presence of air. With a more shaped surface, your car runs faster even with air resistance and this is an undeniable upgrade.
Make your car lightweight
If you feel like your Camaro could do better in terms of its weight, installing a body kit is one way to substitute heavier parts for lighter ones. This is achieved by using a lightweight material like fiberglass or carbon fiber.
Better traction
The physical changes in your car proportions resulting from installing a body kit can give you better traction. This is achieved by reducing the amount of airflow below your car while you turn through sharp corners.
Installing a 3rd Gen Camaro Wide Body Kit: The Ultimate Guide
Installing your wide-body kits depends on the materials or components included in the kit overall, the instructions that also comes with this kit play a crucial role in installation as they guide on specific process concerning the kit. Here are some of the basic components you may find in your wide-body kit.
2 side skirts
2 Front flares
2 rear flares
Rear fascia
Unless you are a pro, installing this kit is no easy task and may require the help of a professional, but If you have some knowledge and you want to make this a DIY project, here are the procedures on how to install the components of a 3rd gen Camaro wide body kit.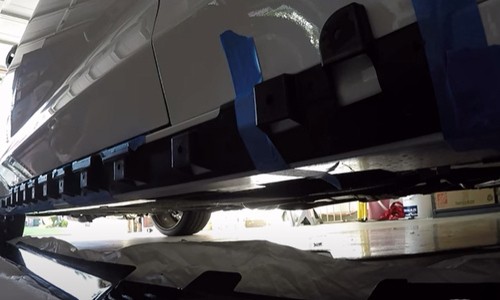 Step one: Clear your working area
You will need to move a lot to get this job done so we recommend you create an open workspace to avoid mix-ups and frustration while working.
Step two: Align the side skirt for the installment
Take one bracket for a side skirt and align it at the bottom of your car according to the instructions that came with this kit. After properly positioning the bracket, use some tape to hold it firmly to that position as you prepare to drill.
Step three: Drill holes and screw in bolts
With the bracket taped in place, drill holes into the specified regions of the bracket and insert the bolts to hold them firmly in place. After mounting the bracket, you can now take off the tape holding the brackets in place.
Step four: Mount the side skirts
Some side skirts have an adhesive seal at the top that secures it to the bracket in addition to the clips, clean the area where your side skirt will be to ensure that it properly sticks. Align the side skirt with the brakes and take off the adhesive seal, use your hands to gently push in the side skirt for the adhesive to have a proper grip. If there are clips to be in place or bolts to be fixed, you can also do that.
Step five: Preparing for installing the front and rear flares
Using a jack and appropriate tools, remove the front and rear tires of your car.
Step six: Drilling holes and bolting the flares
Align your flare with the frame of your car with tape to hold it in place while you drill. Make holes on the flares so that it aligns with the holes in your car frame. Using the provided hardware which can be screwed U clips or push-up clips, attach the flares to the frame of your car and remove the tape. If you are installing flares for all of your car tires, then repeat this procedure for each of them.
Step seven: Removing the bottom panel of your car for the rear fascia
Undo clips or loosen any screws holding the bottom panel together. Insert any flat tool between the fascia rear and the fascia guide and make a small depression, look for snaps or clips holding these parts together and undo them.
With the tires of your car still off, carefully remove the rear headlights and access any screw holding the rear fascia, you should do the same for the weather panel as well.
Step eight: Drill holes
Mark spots on your rear fascia according to the instructions that came with your wide-body kit, you can do this using a marker. Use a drill to create holes in the marked spot
Step nine: Install the new fascia
After disassembling your rear valence and bumpers as well, attach the new fascia to the bottom panel of your car using the given hardware to secure them through the drilled holes.
Step ten: Assembling
With the rear fascia ow installed, you can put back the tires of your car using the appropriate tools.
Conclusion
You may like the 80s look and vibe your Camaro gives you, but if you want to go for a more modern or sporty look, then you need a wide body kit to achieve this. This article has provided relevant details on what wide-body kits are, their benefits, the materials they can be made of, and how to install them.
To install a 3rd gen Camaro wide body kit, you need to follow the guide above and the instructions provided with your kit as well for specific guides. The components of your wide-body kit should include side skirts, front and rear fender flares, and a rear fascia.