Blacked-Out Style: Matching Black Rims to Your Black Car
Are you a black car lover? And looking for a gorgeous and shiny look for your black car? Then today's article is for you. Today we will discuss how you can give your black car an attractive look. Hope our article will be useful and satisfying for you. So let's get started.
We humans are always lovers of beauty. We include or exclude many things in our style to enhance our beauty. We want every useful thing in our daily life, be it anything, it is beautiful and pleasant, neat. Cars are a part of daily life for car lovers. And they love to give their car a new look. One of the most important parts of a car is its rim. In particular, it plays a special role in the beauty of the car. As rims contribute to the beauty of the car, so its color, style, etc. are also important.
Rims color on a car:
The color of the rims can have a significant impact on the look and style of a car. There are a few things to consider when choosing the right color for car rims:
Choosing a rim color that matches the car's body can give the car a more cohesive and unified look. Moreover, it can be particularly effective with more subtle colors, such as silver or gray. But, choosing a contrasting rim color helps draw attention to the car's wheels. It also creates a more aggressive or sporty look. For example, choosing black rims on a white car or silver rims on a black car can create an interesting contrast.
To create a bold and eye-catching look, bright-colored rims, such as red or blue, can be used. But it may not be suitable for all car styles or colors.
When choosing a color for rims, it is very important to consider maintenance and upkeep. Darker colors may be more prone to showing scratches and other imperfections, while lighter colors may show dirt and brake dust more.
Finally, we can say, the color of a car's rims should be chosen based on personal style preferences. Along with personal style, there are practical considerations, such as maintenance and upkeep. A chosen rim color can help enhance the look and style of a vehicle.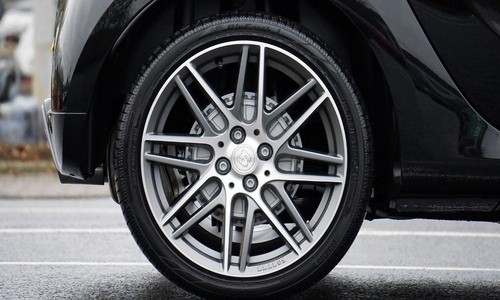 Black-on-black combination:
When it comes to a car's aesthetics, there are a few color combinations that are as iconic as black rims on a black car. This combination can transform a vehicle from simple to sleek, stylish, and sophisticated. There's something about the contrast of dark with the dark that exudes a certain level of luxury. Wondering? No wonder this pair is a popular choice among car enthusiasts.
Black Rim:
Let's talk about the rims first. For those who want to add a touch of edginess to their ride, black rims are a classic choice. These rims are often made of lightweight materials such as aluminum or carbon fiber. Which gives them a modern look as well as unexpected weight loss. As a result, the performance of the car has also improved. Each method has its own advantages and disadvantages. But they result in a smooth and uniform appearance, which complements a black car.
Black car:
Black is a timeless color. It has been associated with luxury and elegance for centuries. It is sleek, sophisticated, and versatile. It also makes it a popular choice for everything from business suits to high-end sports cars. When paired with black rims, the result gives a cohesive and unified look, which flows through the category.
The black-on-black combo is easy to maintain. Which is one of its advantages. Also, the black color helps hide dirt and grime better than light colors. So you don't have to wash your car as often as before. Also, dark colors don't show scratches and dings like light colors. So it will help your car look new for a long time. This, again, does not mean that you should neglect the car completely. Regular maintenance is always essential to keep it running.
Why choose a black rim for a black car:
Another advantage of black rims on a black car is that they are versatile. And this look can work on everything from a sports car to an SUV. It can be paired with different colors and finishes. You want to add a pop of color. Then you can choose red brake calipers or a red interior to contrast with the black color. Again, you can choose a matte or satin finish on the rims to add texture and depth to the look.
Moreover, there are some downsides to consider. One of the biggest concerns with black rims is that they can be difficult to keep clean. The usually dark end shows every speck of dust and dirt. So you must be diligent about washing them. Also, if you live in harsh winters or an area with a lot of road salt, the rims are more prone to corrosion and damage. In this case, you can invest in high-quality rims made of durable materials. Additionally, you can reduce this risk by applying a protective coating to the end.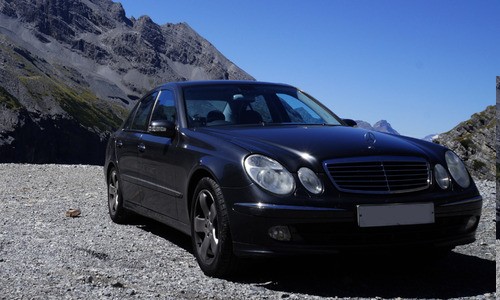 Finally, black rims on a black car are a classic and timeless choice. This choice can enhance the look of any car. If you want a sleek and modern look, this will prove to be a great choice. Also, going for a traditional and elegant atmosphere?? This combination is sure to turn heads. Will make a statement on the road. So if you want to upgrade your car's style, you can add some black rims to take it to the next level.
Conclusion
Black rims can become a great complement to a black car. Because they are able to create a sleek, sophisticated look. Moreover, the monochromatic color scheme of black on black creates a cohesive and unified look. Which is both elegant and understated. Black rims also have the added benefit of being versatile. It can work well with a variety of vehicle styles, from sporty to luxury. It is worth noting that the final appearance of a black car with black rims depends on several factors. Such as the size and design of the rims, the style of the vehicle, and even the aesthetic preferences of the owner. So these factors must be considered while selecting the right black rims for your black car.
Furthermore, it is most important to remember that black rims, like other car accessories, must be repaired to look their best. So regular cleaning and maintenance must be ensured.